Unique communities aren't always a given in residential real estate, so here's a public service announcement if you're seeking a new custom Florida home in the Jacksonville area: check out Seven Pines!
This new master-planned community southeast of Jacksonville is coming to life on acreage long held by the local Skinner family — and its lush coastal forests and ponds are welcoming new occupants.
Not only is Seven Pines rising from special ground, but its location couldn't be more convenient. Sited just southeast of the Butler Boulevard-Interstate 295 interchange, Seven Pines is minutes from Atlantic beaches, Jacksonville's shopping, dining and entertainment enclave of St. Johns Town Center, and all of the metro area's cultural, arts and sports activities via the I-295 beltway.
But it's the amenities we'd like to tout here. Seven Pines boasts a primo menu of activities and cutting-edge facilities, and if you love Florida's active, outdoor lifestyle, put exploring Seven Pines on your to-do list.
Why Seven Pines is special
It's a joint effort between two nationally respected homebuilders, David Weekley Homes and ICI Homes. The two are collaborating on both rear-entry and front-entry homes and neighborhood configurations, giving buyers myriad options that aren't available everywhere. A quick note: rear-entry homes are exactly that, with garages and driveways located at the rear of the floor plan.
Seven Pines' uniqueness extends to its layout. Its 1,000 acres will accommodate 1,6000 single-family homes, apartments options, plus more than one million square feet allotted to retail and commercial spaces, meaning Seven Pines residents have the potential to live, work and shop right in their neighborhood.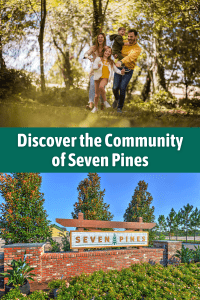 Get outside
If you love outdoor recreation — and all other top amenities too — Seven Pines is your place.
Resort-style swimming pools? Check. A residents club? Check. Seven Pines' lakeside Club Legacy will arrive soon with an expansive fitness center, and event and social spaces. Expect a spray park and playground for little ones.
But the list also extends outdoors. Seven Pines boasts a 34-acre Central Park, a village area, miles of trails, green spaces and pocket parks nestled throughout the community. Love personal watercraft? Seven Pines has your back — and paddles! A lakeside outpost beside Club Legacy will stock kayaks and canoes for residents' enjoyment.
Try finding that at another master-planned community.
Speaking of finding…
Find your new home
Be totally inspired by Seven Pines' gorgeous model-home park. Both David Weekley Homes and ICI Homes are offering versatile one-and-two-level floor plans outfitted with two-and-three-vehicle garages, depending on your preferences.
In fact, Seven Pines buyers of all ages and life stages will find something just right, ranging from approximately 1,900 to more than 5,000 square feet.
You'll find both rear-and-front-entry models from both builders, including the Braddock (rear load), Duval (rear load), Davenport (front load) and Palos Verdes (front load) floor plans from ICI Homes, and the Forrest (rear entry), Brightman (front entry) and Annie Eliza (rear entry) from David Weekley Homes.
Ready for your Seven Pines lifestyle? Talk to us here.