JACKSONVILLE, Fla. (Feb. 8, 2023) – The community of Seven Pines was honored with an award for Master-Planned Community of the Year at The Nationals, the home building industry's national awards competition presented by the National Association of Home Builders. The awards were presented during the International Builders Show in Las Vegas.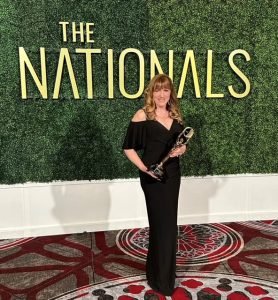 Seven Pines is a master-planned community offering new homes expertly crafted by two of Jacksonville's most trusted builders, ICI Homes and David Weekley Homes. In addition to the award for Master-Planned Community of the Year, the community's honors included a Gold Award for Best Print Campaign in partnership with InterCommunications, and Silver awards for Best Graphic Continuity and Best Signage.
"It is truly an honor to be recognized by The Nationals with four awards including one acknowledging Seven Pines as one of the top five master-planned communities in the country," said Mori Hosseini, Chairman/CEO of ICI Homes and the managing partner of Seven Pines. "We are proud to receive these honors on behalf of Seven Pines."
"Seven Pines has quickly become one of the most sought-after communities in Northeast Florida," said David Weekley, Chairman of David Weekley Homes. "The Nationals recognize the best in the home building industry, and we appreciate the nationwide accolades from our industry peers."
The community of Seven Pines offers a wonderful neighborhood environment with contemporary homes, unique outdoor amenities and an exceptional location that is close to everything. Homes at Seven Pines are nestled within walkable neighborhoods with lush green space, water and tree-lined streets. With more than 1,000 acres of natural beauty, Seven Pines will offer a vibrant village center, parks, trails, lakes and family outposts that bring residents closer to nature—and each other.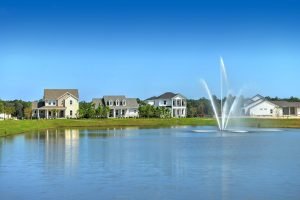 Seven Pines amenities are currently under construction. Plans for the community include a 34-acre Central Park and a 7,900-square-foot Residents Club located alongside a sparkling lake. The Residents Club will offer a resort-style pool, a lap-lane pool and children's playground with interactive water features and slides. The clubhouse will provide nearly 3,000 square feet of fitness space that will include a group fitness area and a cardio workout area in addition to meeting/event space. Plans for the amenity area include an Outpost building by the lake for canoes and kayaks.
In addition to eight furnished model homes, ICI Homes and David Weekley Homes have several quick move-in homes under construction at Seven Pines. The homes feature a variety of floor plans and a wide range of square footages and styles. Model homes are open daily. Home prices at Seven Pines start in the upper $600,000s.
Seven Pines is located on Kernan Boulevard south of J. Turner Butler Boulevard. The community offers quick access to the beaches and downtown Jacksonville, and has a premier location near shopping, dining, schools, recreation, medical centers, business centers, and more. For more information, visit www.sevenpines.com.
About Seven Pines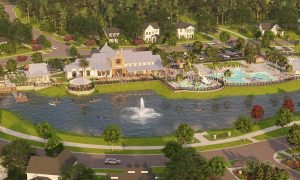 Seven Pines is a new master-planned destination conveniently located between the beaches and downtown Jacksonville. A community where nature leads the way.
Spanning approximately 1,000 acres, plans for Seven Pines include approximately 1,600 single-family homes for sale, apartments and over a million square feet of commercial and retail space.
Plans for Seven Pines residents include magnificent community amenities, among them a 34-acre park and sparkling lake, a vibrant village center, miles of multipurpose trails and more. Plans for Seven Pines include a variety of architectural styles and homes sizes in interconnected neighborhoods, built by ICI Homes and David Weekley Homes.
Seven Pines is located at the southeast quadrant of the I-295/Butler Boulevard interchange at the southern extension of Kernan Boulevard in Jacksonville, Fla. For more information, visit www.sevenpines.com.
About ICI Homes
Headquartered in Daytona Beach, FL for over 40 years, ICI Homes has built thousands of homes in prestigious communities in many major Florida markets including Daytona Beach, Jacksonville, Orlando, Tampa, and Gainesville. Known as Florida's Custom Home Builder, the company is widely recognized for its unique ability to customize any home with a focus on superior energy-wise standards of their luxury custom single-family, estate and townhomes. ICI Homes continues to win hundreds of awards for outstanding design features and was awarded the Platinum Builder Award by HBW in 2018, 2019, 2020 and 2021. ICI Homes is consistently ranked among the nation's "Top 100 Builders" by Builder magazine and has been named "Builder of the Year" by the Florida Home Builders Association many times over. For more information, visit ICIHomes.com.
About David Weekley Homes
David Weekley Homes, founded in 1976, is headquartered in Houston and operates in over 20 cities across the United States. David Weekley Homes was the first builder in the United States to be awarded the Triple Crown of American Home Building, an honor which includes "America's Best Builder," "National Housing Quality Award" and "National Builder of the Year." Weekley has also appeared 15 times on FORTUNE magazine's "100 Best Companies to Work For®" list. Since inception, David Weekley Homes has closed more than 100,000 homes. For more information about David Weekley Homes, visit the company's website at www.davidweekleyhomes.com